West Forsyth Lacrosse Primed for a Deep Playoff Run
Article & photos courtesy of Score Atlanta –> Original Article Here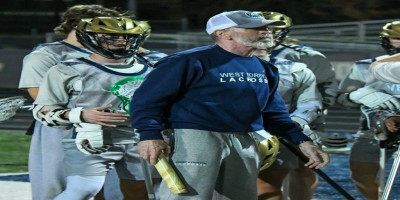 Photo Courtesy Of Tony Zylstra
West Forsyth is off to one of its best starts in school history with a 13-1 record this deep in the season. The only other year the Wolverines eclipsed more than 13 wins was during the 2016-2017 season when they reached 17 wins and made it to the quarterfinals before losing to the eventual state champion Lassiter. West Forsyth is a very deep team who has been depending not only on their senior class but their young guys and players growing up taking on more prominent roles within the team.
"I think it has to do with the young men who play for us. We push them to be a certain way but I think on their own they have established a culture we want to represent. They have worked hard on their games individually," said West Forsyth Coach John Laden. "They have worked hard in the conditioning and the weight training we do in the off-season. We have a freshman who has been absolutely outstanding in Jack Schenkemeyer. His poise and ability to play with all the guys have been great. We have some midfielders who played last year as sophomores who have grown up a lot in Ryder Stewart and Henry Delp who are football guys. We are starting to see some more playing time for guys like Evan Egoff and Foster Orris. We have had great performances by junior defenseman Ryan Webb and Lucas Prinke and a number of other guys who are really starting to shine now in the last few games."
West Forsyth already has an impressive resume of wins this season that includes beating multiple top 10 teams in Etowah, Alpharetta, North Gwinnett, Denmark, and defending state champion Lambert, who have won the state championship the past five years. It was also their first time beating them in program history. West Forsyth head coach John Laden talked about what the moment meant.
"It was a great moment for our team. It was really a great moment for all the players that came before, the coaches, and all the support we had from our youth program and all our booster club people," said Laden. "I got a lot of phone calls and text messages from people who had been with us all along. It was a great win for everyone, but we move forward and we look to continue to progress."
Buford was the only team that beat West Forsyth all season and used the third-quarter run to take the lead and get back in the game after trailing at the break. As good as Buford is, they sit third in a crowded region of elite teams in Area 4 behind Lambert and West Forsyth. Coach Laden gave his thoughts on the game.
"We were 12-0 going into the game. We were coming off a big win against Lambert. We were very excited to play them. We knew how good Buford was. It was one of those games we hadn't had all year," said Laden. "We were up 6-5 at halftime and then we just had a really bad third quarter. Give credit to Buford they took advantage. We came storming back but came up a little bit short. They are a great team and I think we have learned a lot already from that particular loss. Sometimes it is better to lose and move forward and learn from that."
One of the biggest reasons for West Forsyth's success is the players have bought into the system and culture and their offseason program has been vital to the success. The players do their own training and constantly stay in shape in the offseason and during the fall program prior to the season.
"We've always had a summer program where we try to keep everybody together called We and Us Lacrosse. It allows football players to join too because we do it at night and football is usually done in the morning and afternoons," said Laden. "We have a fall program where we will play some local teams and some tournaments and we are able to practice once a week. We have four-for-ones where our four players can work with a coach on certain aspects of the game. We do conditioning twice a week once school starts again in the fall and weight training a couple of times a week. A lot of the boys do a great job of working on their own also. It is a full-time commitment for these guys. They have done a super job being committed to the process, which the end goal is being as good as we can be."
Senior and Mercer Commit Greyson Brockman has continued to be a key piece on the offensive end for the Wolverines this season. Brockman is a key contributor to why the Wolverines have scored double-digits in every game this season. It is more than just scoring for Greyson rather making his teammates around him better and setting up easy scoring chances for others.
"Gray has been on varsity since he was a freshman. In his sophomore year, he stepped up and had a big role when one of our players got hurt. Last year he was an all-American," said Laden. The biggest difference with Gray this year is he has shown tremendous leadership as a senior captain," said Laden. "Not only is he scoring a lot of goals but he is assisting on quite a few. He is trusting in his teammates and his teammates are trusting in him, which I think has made us a little bit more dynamic on the offensive end."
West Forsyth has a tough stretch coming up with three of their next four games against playoff teams. Their next opponent will be Cambridge, who are fighting for their playoff lives. It will be a great way for the Wolverines to fine-tune and get the kinks out before the postseason play begins in two weeks on April 24th.
"We want to get better in order to move forward in the postseason and perhaps beat some of these strong teams we play after the break. I think it is more about us than anyone else," said Laden. "As good of a year as we have had, we see a lot of room for improvement. We try to get better with every game. We try to remain grounded and try to get better one step at a time."
West Forsyth is certainly a team to watch this postseason in 7A. The Wolverines are seeking to win their first state title in program history this season