Week 8 girls soccer rankings
Article & photos courtesy of Score Atlanta –> Original Article Here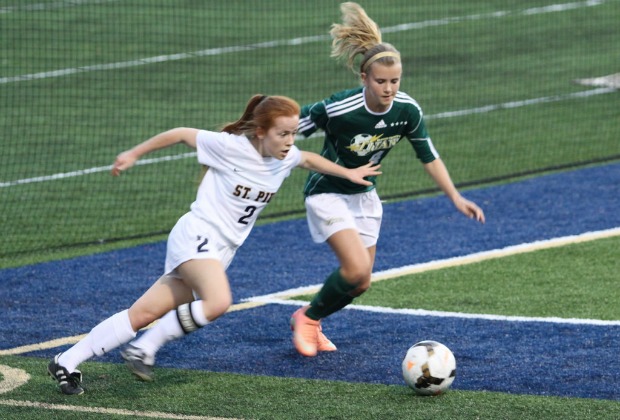 Peachtree Ridge holds the top-spot in the state's highest classification with an 11-1-0 record in a mirror image of last week's rankings as most teams were on Spring break. Lassiter, Walton, Lambert and South Forsyth fill out the top-5 in that order. Peachtree Ridge, who's boys team is also leading the 7A class, got a win over Ashley Ridge last week. Lambert got two wins last week over Hilton Head, SC and Richmond Hill to improve its record to 12-3-1.
Harrison remains the team to beat in Class 6A with a 12-3-1 record. Dacula, previously sixth, moved to fourth after two wins last week, making its record 13-2-0. Pope fell from fifth to sixth as Alpharetta fell to fifth. Chattahoochee, previously un-ranked, moved into the top-10 at seventh. Alexander fell from seventh to eighth as Sequoyah fell to un-ranked and Creekview fell to ninth.
The top-5 is a mirror image of last week's rankings with Whitewater leading the way with a 12-0-1 record. Buford is second with an 11-1-1 record. Two Warner Robins teams, Veterans and Warner Robins, are third and fifth respectively and have 26 wins between the two. McIntosh is in the No. 4 spot, rounding out the top-5. Starr's Mill is sixth in front of Decatur, Paulding County, Harris County and Grady.
Marist is still in the driver's seat of Class 4A with a 10-2-1 record, including a win over Woodward Academy last week. St. Pius took the week off but remains in the No. 2 spot. Columbus, with three wins last week, remains in the No. 4 spot. Columbus allowed zero goals in wins over Carver-Columbus 10-0, Woodward Academy 7-0, and Hardaway 8-0. Spalding County, ranked sixth, got wins over Perry and Howard last week and has not allowed a goal in three games.
Westminster has a lock on the top-spot in Class 3A, on both boys and girls sides of the classification. The Lady Wildcats got two wins last week and have not lost a game since Feb. 24 to St. Pius X, 2-1. Lovett fell from fifth to sixth as Pace Academy moved into the top-5. Jackson County moved up from eighth to the sixth spot. Sonoraville fell to eighth as Bremen and Adairsville fell to un-ranked and were replaced by Pierce County and Calhoun in the ninth and tenth spots, respectively.
St. Vincent's is holding down Class 2A with a 13-1-0 record and a win over Bacon County, 10-0, last week. East Laurens, with a 14-2-0 record, is a close second. The rest of the rankings are a mirror image of last weeks with little change to records. Toombs County, ranked ninth, beat Metter 6-0 last week. Model, ranked fifth, defeated Armuchee 6-0 and Pepperell 6-2 last week.
Wesleyan, with an 11-3-1 record, holds the top spot in Class 1A. Wesleyan got wins over Marist and Galloway last week. Second-ranked First Presbyterian got wins over Manchester and Pike County last week. Walker moved from fifth to fourth as Fellowship Christian fell to fifth. Paideia fell from sixth to ninth and Atlanta International moved up to sixth. Stratford fell to eighth, Athens Academy fell to ninth and Pisgah rounds out the top-10 in the No. 10 spot.
Class AAAAAAA
1. Peachtree Ridge (11-1-0)

2. Lassiter (10-2-1)

3. Walton (11-3-1)

4. Lambert (12-3-1)

5. South Forsyth (11-3-0)

6. Collins Hill (10-3-1)

7. Brookwood (9-3-1)

8. Grayson (10-3-0)

9. Parkview (10-4-1)

10. Roswell (8-6-0)
Class AAAAAA
1. Harrison (12-3-0)

2. Northgate (12-1-0)

3. Johns Creek (10-2-2)

4. Dacula (13-2-0)

5. Alpharetta (9-4-0)

6. Pope (10-3-1)

7. Chattahoochee (6-3-1)

8. Alexander (9-2-0)

9. Creekview (9-3-0)

10. Glynn Academy (9-3-0)
Class AAAAA
1. Whitewater (12-0-1)

2. Buford (11-1-1)

3. Veterans (14-1-0)

4. McIntosh (6-5-2)

5. Warner Robins (12-2-1)

6. Starr's Mill (6-7-1)

7. Decatur (9-2-3)

8. Paulding County (12-2-0)

9. Harris County (9-5-0)

10. Grady (8-5-1)
Class AAAA
1. Marist (10-2-1)

2. St. Pius X (13-1-1)

3. Blessed Trinity (10-1-2)

4. Columbus (13-0-1)

5. Spalding (15-0-0)

6. North Oconee (9-3-0)

7. Chapel Hill (12-1-0)

8. Woodward Academy (5-7-2)

9. Oconee County (9-3-2)

10. Sandy Creek (6-7-0)
Class AAA
1. Westminster (12-1-0)

2. Greater Atlanta Christian (9-3-2)

3. Dawson County (11-2-0)

4. Lumpkin County (10-2-0)

5. Pace Academy (7-4-1)

6. Jackson County (11-2-0)

7. Lovett (6-7-0)

8. Sonoraville (13-2-0)

9. Pierce County (14-1-0)

10. Calhoun (7-3-0)
Class AA
1. St. Vincent's (13-1-0)

2. East Laurens (14-2-0)

3. Fitzgerald (14-1-0)

4. Lamar County (10-3-0)

5. Model (11-2-0)

6. Glenn Hills (6-0-0)

7. Harlem (11-1-1)

8. Vidalia (9-3-1)

9. Toombs County (11-2-0)

10. Thomasville (7-4-2)
Class A
1. Wesleyan (11-3-1)

2. First Presbyterian (14-0-0)

3. Holy Innocents' (10-3-0)

4. Walker (10-2-0)

5. Fellowship Christian (9-2-1)

6. Atlanta International (7-2-0)

7. Stratford (6-1-0)

8. Athens Academy (7-3-0)

9. Paideia (8-4-2)

10. Mount Pisgah (2-1-0)