Week 7 girls soccer rankings
Article & photos courtesy of Score Atlanta –> Original Article Here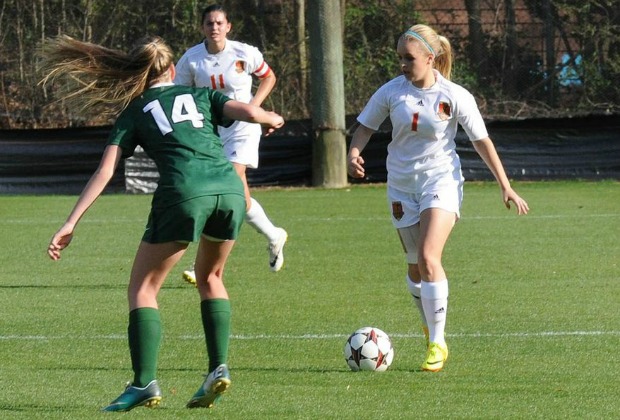 The competition in the state's highest classification makes it nearly impossible to decide who is best. This week the only change in the rankings is No. 10 Grayson moving up to ninth and No. 9 Roswell falling to tenth. Peachtree Ridge remains the team to beat with a 10-1-0 record. Peachtree Ridge won over North Gwinnett and Loganville last week. Out of the top-10, seven of the programs have at least 10 wins. Lassiter, in the No. 2 spot, is sporting a 10-2-1 record and got wins over Kennesaw Mountain and Cherokee last week. Walton, 11-3-1, is third with wins over Wheeler and Etowah last week.
Harrison is on top of the 6A classification with a 12-3-0 record and wins over Allatoona, Osborne and South Cobb is the last three games. Northgate is still in the No. 2 position but then things got a bit shaken. Pope fell from third to fifth after a loss. Johns Creek moved to third from fourth. Alpharetta jumped from sixth to fourth. Chattahoochee, formerly seventh, fell to unranked and was replaced by former No. 10 Alexander. Effingham County fell from eighth to unranked as Creekview entered the top-10 at No. 8. Sequoyah enters the rankings in the No. 9 spot.
The top-5 stays the same this week with Whitewater, Buford, Veterans, McIntosh and Warner Robins holding it down. Starr's Mill stays sixth but then Decatur moves in at seventh, replacing Chamblee, who fell to unranked. Paulding County and Harris County are eighth and ninth with Grady entering the top-10 as Decatur fell by the wayside.
Marist, with a 9-1-1 record, overtakes St. Pius X as the No. 1 ranked team in the 4A classification. Although Marist lost to Pope on March 30, it has wins over St. Pius X on March 28 and Blessed Trinity on March 24 which stakes its claim to the top of the rankings. North Oconee jumps up to sixth as Woodward falls to eighth. Sandy Creek entered the top-10 at the No. 10 spot as LaGrange falls by the wayside.
Westminster, with a 10-1-0 record, has yet to relinquish its grasp on the top spot in the 3A classification. The Wildcats got a 4-0 win over Pace Academy on March 31. Greater Atlanta Christian is close behind with a 9-3-2 record. Pace Academy, previously fourth, fell to sixth and was replaced by a 10-2-0 Lumpkin County. No. 7 Sonoraville, No. 8 Jackson County, No. 9 Bremen and No. 10 Adairsville round out the bottom half of the rankings.
St. Vincent's, with a 12-1-0 record, remains the team to beat in the 2A classification. The top-5 stays the same with East Laurens, Fitzgerald, Lamar County and Model rounding it out in that order. Harlem jumped up to seventh from eighth as Vidalia fell to eighth. Toombs County moved up to ninth as Thomasville, previously ninth, fell to tenth.
Wesleyan is still in the top-spot of the 1A classification with a 9-3-1 record. First Presbyterian in still second. Holy Innocents', with an 8-2-0 record, moved up from sixth. Stratford fell from seventh to eighth as Atlanta International moved up to seventh. Landmark Christian fell to unranked and was replaced with Mount Pisgah.
Class AAAAAAA
1. Peachtree Ridge (10-1-0)

2. Lassiter (10-2-1)

3. Walton (11-3-1)

4. Lambert (10-3-1)

5. South Forsyth (11-3-0)

6. Collins Hill (10-3-1)

7. Parkview (9-3-1)

8. Brookwood (9-3-1)

9. Grayson (10-3-0)

10. Roswell (8-6-0)
Class AAAAAA
1. Harrison (12-3-0)

2. Northgate (12-1-0)

3. Johns Creek (10-2-2)

4. Alpharetta (9-4-0)

5. Pope (10-3-1)

6. Dacula (11-2-0)

7. Alexander (9-2-0)

8. Creekview (9-3-0)

9. Sequoyah (8-3-1)

10. Glynn Academy (9-3-0)
Class AAAAA
1. Whitewater (12-0-1)

2. Buford (11-1-0)

3. Veterans (12-1-0)

4. McIntosh (6-5-2)

5. Warner Robins (11-2-1)

6. Starr's Mill (6-7-1)

7. Decatur (9-2-3)

8. Paulding County (12-2-0)

9. Harris County (9-4-0)

10. Grady (8-5-1)
Class AAAA
1. Marist (9-1-1)

2. St. Pius X (13-1-1)

3. Blessed Trinity (10-1-2)

4. Columbus (10-0-1)

5. Spalding (13-0-0)

6. North Oconee (9-3-0)

7. Chapel Hill (12-1-0)

8. Woodward Academy (5-5-2)

9. Oconee County (9-3-2)

10. Sandy Creek (6-7-0)
Class AAA
1. Westminster (10-1-0)

2. Greater Atlanta Christian (9-3-2)

3. Dawson County (11-2-0)

4. Lumpkin County (10-2-0)

5. Lovett (4-7-0)

6. Pace Academy (7-4-1)

7. Sonoraville (13-1-0)

8. Jackson County (11-2-0)

9. Bremen (10-4-0)

10. Adairsville (9-3-0)
Class AA
1. St. Vincent's (12-1-0)

2. East Laurens (14-2-0)

3. Fitzgerald (13-1-0)

4. Lamar County (10-3-0)

5. Model (9-2-0)

6. Glenn Hills (6-0-0)

7. Harlem (11-1-1)

8. Vidalia (9-3-1)

9. Toombs County (10-2-0)

10. Thomasville (7-4-2)
Class A
1. Wesleyan (9-3-1)

2. First Presbyterian (12-0-0)

3. Holy Innocents' (8-2-0)

4. Fellowship Christian (9-2-1)

5. Walker (10-2-0)

6. Paideia (8-4-2)

7. Atlanta International (7-2-0)

8. Stratford (6-1-0)

9. Athens Academy (7-3-0)

10. Mount Pisgah (2-1-0)