Week 7 boys soccer rankings
Article & photos courtesy of Score Atlanta –> Original Article Here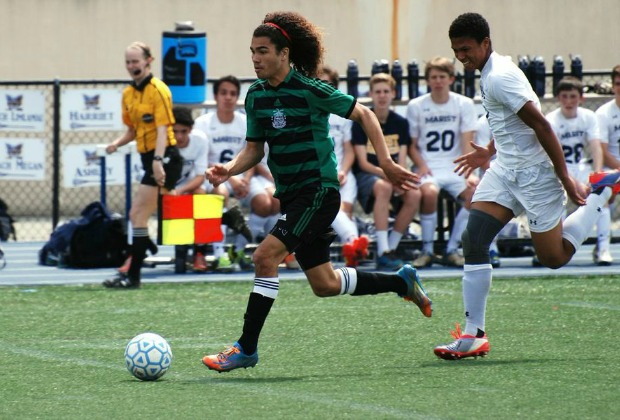 In the state's highest classification, Peachtree Ridge, carrying a 11-0-0 record, is the team to beat. Peachtree has fared well on the road as of late, handling Loganville 8-1 on March 28 and Lakeside-Evans, 2-1, on March 21. Etowah, 10-1-1, fell to fifth as Pebblebrook moved up to third. Campbell, previously fourth, fell to sixth. Walton, who was ranked ninth last week, jumped all the way up to fourth to round out the top-5. Collins Hill fell to seventh, Brookwood jumped from tenth to eighth. Kennesaw Mountain fell out of the rankings and was replaced by No. 10 Rockdale County.
With two impressive wins last week, Dalton remain on top of the 6A classification. On March 28, Dalton defeated Creekview 7-1 and just three days later, defeated Sprayberry on the road, 10-0. Chattahoochee, Allatoona and Gainesville stay No. 2, No. 3 and No. 4, respectively. Osborne made the biggest move, a jump from ninth into the top-5 as previous No. 5, Centennial, fell to sixth. Greenbrier fell from seventh to eighth and Johns Creek from eighth to ninth. Alpharetta remains in the No. 10 spot.
It is difficult to decide who is leading in the 5A classification as three of the top-5 have 12 wins on the season. No. 1 McIntosh, No. 2 Riverwood, and No. 3 Clarkston have a combined record of 36-4-2. Starr's Mill, 10-3-1, is no slouch either at the four spot. Johnson-Gainesville fell to fifth to round out the top-5. Carrollton and Grady remain No. 6 and No. 7, respectively as Veterans moved from tenth to eighth. Cross Keys fell to ninth and Whitewater fell to tenth.
Marist, with a 6-3-2 record, defeated No. 2 St. Pius X 2-1 on March 28 to jump from No. 7 into the top spot in the 5A classification. Druid Hills, previously No. 1, falls to fourth after a loss to McIntosh on March 25. Oconee County falls from fourth to fifth as Woodward Academy fell to ninth. Columbus jumped from tenth to seventh and LaGrange fell to un-ranked. Richmond Academy moved into the rankings at tenth.
Westminster is the team to beat in the 3A classification, sporting a 9-3-0 record and wins over Pace, Lovett, and Chattahoochee in the past three games. Dawson County moved up from sixth to the No. 2 spot. East Hall made a move from un-ranked to the No. 5 spot with an 11-3 record. Windsor Forest fell from fifth to sixth after a loss. Calhoun moved from eighth to ninth and Long County is tenth after Savannah Arts fell to un-ranked.
Following Fitzgerald's 1-0 loss to Thomasville on March 28, Benedictine, with three wins last week, takes over the top spot in the 2A Class. Fitzgerald lands in the No. 2 spot. Jefferson County moves up to fifth after Coosa fell to sixth. Toombs County jumped up from ninth and Vidalia fell to eighth. Thomasville entered the top-10 in the No. 9 spot and Gordon Central remains tenth.
Walker is still in the top position in the 1A classification with an 11-2-0 record. The top-5 stays the same with Paideia, Wesleyan and Whitefield Academy in the No. 2, No. 3 and No. 4 spots, but Atlanta International replaces Fellowship Christian in the No. 5 spot. Fellowship fell to eighth. St. Anne Pacelli moved up to sixth and Mount De Sales moved to seventh. Hebron Christian stays in the No. 9 spot and Brookstone replaces Riverside Military in the No. 10 spot. Riverside falls to un-ranked.
Class AAAAAAA
1. Peachtree Ridge (11-0-0)

2. Berkmar (9-0-2)

3. Pebblebrook (12-2-0)

4. Walton (10-2-2)

5. Etowah (10-1-1)

6. Campbell (9-1-1)

7. Collins Hill (9-2-2)

8. Brookwood (7-4-1)

9. South Forsyth (10-4-0)

10. Rockdale County (11-1-0)
Class AAAAAA
1. Dalton (12-1-0)

2. Chattahoochee (10-2-1)

3. Allatoona (10-1-0)

4. Gainesville (12-2-0)

5. Osborne (8-2-0)

6. Centennial (9-4-0)

7. Cambridge (9-3-1)

8. Greenbrier (10-2-1)

9. Johns Creek (7-3-3)

10. Alpharetta (9-3-1)
Class AAAAA
1. McIntosh (12-1-0)

2. Riverwood (12-2-1)

3. Clarkston (12-1-1)

4. Starr's Mill (10-3-1)

5. Johnson-Gainesville (9-1-0)

6. Carrollton (10-1-0)

7. Grady (10-2-2)

8. Veterans (10-3-0)

9. Cross Keys (9-3-1)

10. Whitewater (8-4-0)
Class AAAA
1. Marist (6-3-2)

2. St. Pius X (7-6-2)

3. Blessed Trinity (8-3-3)

4. Druid Hills (9-5-1)

5. Oconee County (10-3-1)

6. Southeast Whitfield (11-1-0)

7. Columbus (7-4-0)

8. Northwest Whitfield (11-3-0)

9. Woodward Academy (8-4-0)

10. Richmond Academy (9-3-0)
Class AAA
1. Westminster (9-3-0)

2. Dawson County (9-0-4)

3. Greater Atlanta Christian (10-3-0)

4. Pace Academy (6-6-0)

5. East Hall (11-3-0)

6. Windsor Forest (11-1-1)

7. North Murray (10-1-0)

8. Savannah Arts (6-3-2)

9. Calhoun (8-4-0)

10. Long County (11-3-0)
Class AA
1. Benedictine (11-2-1)

2. Fitzgerald (12-1-0)

3. Putnam County (11-1-1)

4. Harlem (11-0-1)

5. Jefferson County (11-0-2)

6. Coosa (9-1-0)

7. Toombs County (10-2-0)

8. Vidalia (9-4-0)

9. Thomasville (6-5-3)

10. Gordon Central (4-3-1)
Class A
1. Walker (11-2-0)

2. Paideia (8-4-2)

3. Wesleyan (7-3-2)

4. Whitefield Academy (12-3-0)

5. Atlanta International (8-0-2)

6. St. Anne Pacelli (12-1-0)

7. Mt. De Sales (7-4-0)

8. Fellowship Christian (7-5-0)

9. Hebron Christian (6-6-2)

10. Brookstone (8-2-0)