Week 4 girls soccer rankings
Article courtesy of Score Atlanta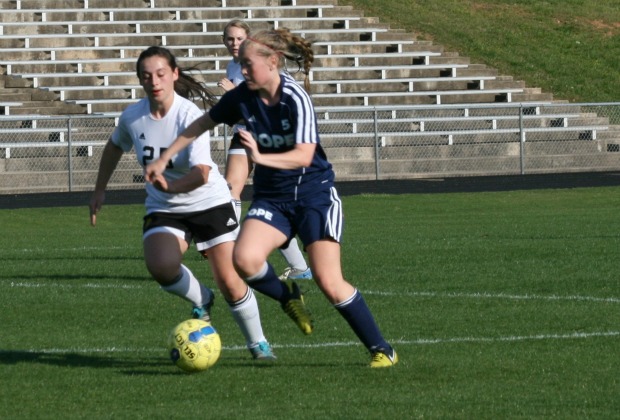 South Forsyth, with a 9-0-0 record, continued solid play to overtake Lassiter as the No. 1 ranked team in the state's highest classification. Lassiter fell to third behind No. 2 Peachtree Ridge. Collins Hill stays in the No. 4 spot while Lambert fell from No. 6 to No. 7. Previous No. 10 Campbell fell out of the rankings and was replaced by Parkview. Milton fell from No. 6 to unranked and Etowah moved into the No. 8 spot.
Pope remains in the top spot in Class 6A with Harrison and Chattahoochee close behind. Dacula moves to the No. 5 spot as North Atlanta tumbled out of the top-10. Northgate moved from unranked to No. 6 and Glynn Academy moved up to No. 8 from No. 10. Creekview fell from No. 8 to No. 9 and Effingham County moved in to the No. 10 spot.
McIntosh holds the top spot again in the 5A class again over Buford (No. 2) and Veterans (No. 3). Harris County breaks into the top-5 after Starr's Mill fell to No. 6. Paulding County moved to No. 8 and Chamblee fell to No. 9. Decatur moved into the top-10 as Flowery Branch fell by the wayside.
Class 4A is led again by St. Pius X, Marist, and Blessed Trinity, in that order. North Oconee broke into the top-5, replacing Columbus who fell to No. 7. Spalding jumped from No. 10 to No. 4, the largest move in the class. Chestatee, previously ranked seventh, fell out of the top-10 this week.
Westminster is in the driver's seat of the 3A class again this week with the top-5 staying the same. Sonoraville (No. 7) and Adairsville (No. 8) switched places this week as Pike County fell from No. 10 to unranked and was replaced by Bremen.
St. Vincent's Academy stays perfect, 8-0-0, and sits atop the 2A Class. Vidalia moved from No. 4 to third as Lamar County fell to No. 5. Model, previously ranked No. 9, moved to the No. 8 spot. Rockmart fell to No. 9 from the eight spot as Social Circle (No. 10) fell out of the rankings. Glenn Hills moved into the top-10 at the No. 10 spot.
Fellowship Christian is the team to beat in the 1A Class. Walker moves into the top-5 as Athens Academy fell to seventh. Savannah Country Day (No. 7) fell to unranked this week as Stratford moves into the top-10. Mount Vernon Presbyterian fell to No. 10 from the No. 8 spot. Atlanta International made a leap from No. 10 to No. 6.
Class AAAAAAA
1. South Forsyth (9-0-0)

2. Peachtree Ridge (6-1-0)

3. Lassiter (6-1-1)

4. Collins Hill (6-2-1)

5. Walton (6-2-0)

6. Lambert (6-2-0)

7. Archer (7-0-1)

8. Etowah (8-2-0)

9. Brookwood (4-3-1)

10. Parkview (3-3-1)
Class AAAAAA
1. Pope (7-1-1)

2. Harrison (6-3-0)

3. Chattahoochee (6-1-1)

4. Johns Creek (6-2-2)

5. Dacula (6-1-0)

6. Northgate (6-1-0)

7. Cambridge (6-2-0)

8. Glynn Academy (7-1-0)

9. Creekview (5-2-0)

10. Effingham County (9-0-0)
Class AAAAA
1. McIntosh (5-2-2)

2. Buford (8-1-0)

3. Veterans (9-1-0)

4. Whitewater (8-0-1)

5. Harris County (8-2-0)

6. Starr's Mill (4-5-0)

7. Warner Robins (6-2-1)

8. Paulding County (7-1-0)

9. Chamblee (5-1-2)

10. Decatur (3-1-3)
Class AAAA
1. St. Pius X (10-0-1)

2. Marist (4-0-1)

3. Blessed Trinity (7-0-2)

4. Spalding (8-0-0)

5. North Oconee (7-1-0)

6. Oconee County (6-1-2)

7. Columbus (6-0-1)

8. Chapel Hill (8-0-0)

9. Woodward Academy (3-4-1)

10. Cartersville (5-2-0)
Class AAA
1. Westminster (6-1-0)

2. Greater Atlanta Christian (5-2-1)

3. Dawson County (9-1-0)

4. Lovett (2-4-0)

5. Pace Academy (4-2-1)

6. Lumpkin County (7-1-0)

7. Sonoraville (8-1-0)

8. Adairsville (5-1-0)

9. Jackson County (6-2-0)

10. Bremen (7-2-0)
Class AA
1. St. Vincent's (8-0-0)

2. East Laurens (8-2-0)

3. Vidalia (7-0-1)

4. Fitzgerald (9-1-0)

5. Lamar County (6-2-0)

6. Harlem (7-1-0)

7. Screven County (7-1-0)

8. Model (6-2-0)

9. Rockmart (5-1-0)

10. Glenn Hills (2-0-0)
Class A
1. Fellowship Christian (5-0-1)

2. Wesleyan (5-3-1)

3. Paideia (6-1-1)

4. First Presbyterian Day (8-0-0)

5. Walker (5-2-0)

6. Atlanta International (3-1-0)

7. Athens Academy (4-1-0)

8. Stratford (2-0-0)

9. Calvary Day (7-1-0)

10. Mount Vernon Presbyterian (4-0-0)