Week 1 girls soccer rankings
Article courtesy of Score Atlanta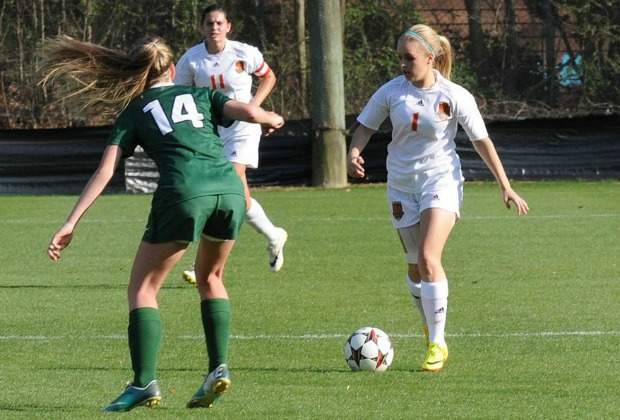 In the newly classified AAAAAAA class, Lassiter debuts at the top spot after winning its first state title last season against West Forsyth, 2-1,in the AAAAAA championship game. It was the first appearance by the Trojans in a state championship game. This season, the Trojans are 1-0 after defeating Centennial 3-0 on Feb 10.
The Class AAAAAA top spot is held by Northgate, who lost out to eventual state champion McIntosh 4-0 in the semis last season. The Lady Vikings opened their season with a 4-0 over Villa Ricca at home and a 3-0 win at Starr's Mill.
In Class AAAAA, 2015-16 champion McIntosh is No 1. The Lady Chiefs defeated Columbus 4-0 last season in the final game and did not allow a goal from the quarterfinals onward. Second-ranked Veterans has won three games so far this season, defeating Houston County 5-3, Jones County 10-0 and LaGrange 2-0.
In Class AAAA, defending champion St. Pius X is ranked No. 1 after defeating Marist 2-0 in the championship game last season. So far this season, the Golden Lions are 3-0.
In Class AAA, Westminster is the team to beat after a commanding run through the 2015-16 championship bracket last season. The Lady Wildcats capped off the season with a 4-0 win over Blessed Trinity.
Class AA was greatly affected by the reclassification, losing three of the final four teams to Class AAA. Losing defending champions. Lovett, Pace Academy and Greater Atlanta Christian freed up plenty of space at the top of the rankings. St. Vincent's, the only remaining final four team from last year's championship bracket, takes the top spot.
In Class A, Fellowship Christian is the top-ranked team after a commanding championship run last season. The Lady Paladins had a bye in the first round but then outscored their opponents 19-2 over the next four games to take home the trophy.
Class AAAAAAA
1. Lassiter
2. West Forsyth
3. East Coweta
4. Lambert
5. South Forsyth
6. Collins Hill
7. Walton
8. Parkview
9. Grayson
10. Walton
Class AAAAAA
1. Northgate
2. Richmond Hill
3. Sprayberry
4. Effingham County
5. Harrison
6. Brunswick
7. Gainesville
8. Allatoona
9. Chattahoochee
10. Houston County
Class AAAAA
1. McIntosh
2. Veterans
3. Starr's Mill
4. Buford
5. Fayette County
6. Arabia Mountain
7. Whitewater
8. Grady
9. Chamblee
10. Evans
Class AAAA
1. St. Pius X
2. Marist
3. Blessed Trinity
4. Columbus
5. Upson-Lee
6. Woodward Academy
7. North Oconee
8. Chapel Hill
9. Spalding
10. Westover
Class AAA
1. Westminster
2. Dawson
3. Pace Academy
4. Lovett
5. Savannah Arts
6. Greater Atlanta Christian
7. Peach County
8. Pike County
9. Lumpkin County
10. Redan
Class AA
1. St. Vincent's
2. Berrien
3. East Laurens
4. Thomasville
5. Harlem
6. Bleckley County
7. Harlem
8. Lamar County
9. Pepperell
10. Fitzgerald
Class A
1. Fellowship Christian
2. Atlanta International
3. Stratford
4. Savannah Christian
5. First Presbyterian Day
6. Athens Academy
7. Calvary Day
8. Paideia
9. Savannah Country Day
10. Walker