Stage set for three days of championship action
Article courtesy of Score Atlanta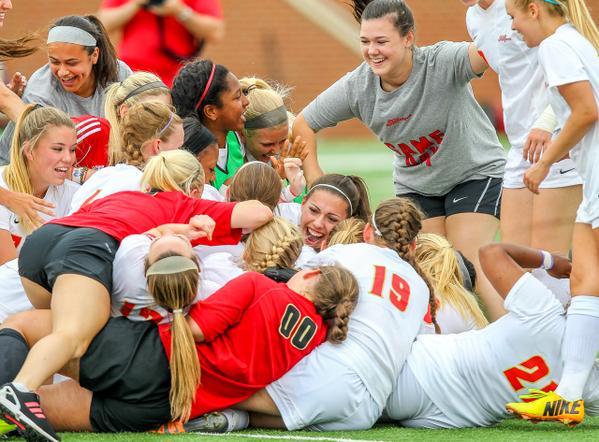 The Class AAAAAA final pits Milton (16-3-1) against Parkview (18-4). The Eagles have never won the title, while Parkview has claimed six, its last coming in 2005. Both navigated difficult paths to the finals. Late red cards changed the momentum in Milton's 3-2 (3-2 on PKs) win over Brookwood in the semifinals. Though they had a man advantage, it still took Milton penalty kicks to slide past the Broncos. Matt Shamoun and Ameen El-Shami netted goals in regulation.
Parkview handed Chattahoochee, recently tabbed as the No. 1 team in the entire nation, its first loss of the season 2-0 in the semis. Freshman Dylan Gaither and junior Andrei Bajura scored the deciding goals. Senior Maurice Thompson powers the Panthers attack with 24 points on the year and 10 goals. Sophomore Alessandro Castro is the team's best playmaker with 13 assists.
In Class AAAAA and maybe the entire state, you will be hard-pressed to find a team with a better resume than Riverwood (16-3-1). The Raiders stopped defending three-time champion and national powerhouse Dalton late in the regular season 3-2 on the road. In the Elite Eight they romped McIntosh 4-1 and shutout Houston County 1-0 in the semis. The Raiders now run into Northgate (18-1-1). The two schools met in a preseason scrimmage which was dominated by Riverwood 5-2. Northgate has won 14-straight games entering this the finals.
St. Pius (16-5) isn't quite the 22-0 world-beater they were last year, but the Golden Lions are still three-time defending champs looking to four-peat in Class AAAA. Their hands will be full with 20-0-1 Johnson-Gainesville, who has been on a warpath this season. Wins over Pike County, Southeast Whitfield and Buford in the past three rounds proves that the Hall County powerhouse are title-ready.
Class AAA belongs to another Hall County team: East Hall (21-1). The Vikings' only loss came to Johnson-Gainesville 4-2. After West Hall won its first title last season, the balance of power has shifted to the east side as the Vikings take on Decatur (15-3-1).
Since 2011, a private school has won the state championship every year in Class AA. From 2011-13 it was Westminster and from 2014-15 it was Greater Atlanta Christian. Pace Academy (17-1) looks to avenge its only loss of the season in a Region 6 rematch with Wesleyan (21-0-1). The Wolves opened the season with a draw at Marist and haven't looked back, beating Pace at Pace 3-0 in their lone meeting.
In Class A, Paideia (14-4-3) is on the prowl for its third title in the past four years as the Pythons meet Fellowship Christian (17-3) in the championship.
GIRLS CHAMPIONSHIPS…
There will be a first-time state champion crowned in girls Class AAAAAA. With 21 minutes left in the semifinals, West Forsyth's Brooke Micham netted the tying goal against the two-time state champion Harrison Hoyas, before the Wolverine's scored deciding goal and 2-1 victory on a free kick by Brooke Pirkle.
On the other side of the bracket, Lassiter shut out Collins Hill 2-0 on Tuesday to clinch its first-ever state finals berth. Mackenzie Brennan scored a goal with 35:50 left in the first half to gain control and Miranda Simpson found Kaitlyn Werner with 16:36 left.
In Class AAAAA, McIntosh will play for its 10th state title at 5 p.m. on Saturday against Wednesday night's winner between Columbus and Starr's Mill. McIntosh scored a 4-0 win over Northgate on Tuesday in the semifinals. Caroline Laux scored two goals, while Veronica Cappas and Taylor Malasek also found the back of the net.
RIVARY AND PEDIGREE…
St. Pius and Marist set up a star-studded Class AAAA final and like McIntosh, the Golden Lions and War Eagles are each playing for a 10th state title. Marist holds the edge this season with a stellar 19-0-1 record and a 2-1 victory at St. Pius on March 22. The War Eagles also went into last season's state championship with 19 wins and a 2-1 regular season victory over St. Pius, but were edged 1-0 in the winner-take-all showdown.
In the first of 12 championship games this weekend, Blessed Trinity will face off with Westminster in the Class AAA finals. Westminster has outscored its four opponents 28-1 this postseason, while the Titans have dominated with an 18-0 goals advantage. Westminster is playing for its 10th state title after defeating the Titans 3-0 in last year's finals. Westminster swept the regular season with a 3-0 victory on March 23 and a 6-1 victory on April 13. Blessed Trinity has won five state titles since 2004.
St. Vincent's Academy looks for its first-ever state title against Lovett, which hopes to snap an 11-year state title drought and take home its third all-time title. St. Vincent's posted an impressive 4-2 win over Pace Academy in the semis, while Lovett battled past Greater Atlanta Christian 3-1.
Atlanta International and Fellowship Christian star in the Class A finals and join Class AAAAAA in guaranteeing a first-time champion. Hebron Christian eliminated both schools in last year's playoffs.