Sandy Creek High wins Fayette's first-ever state boys basketball championship
Article & photos courtesy of The Citizen –> Original Article Here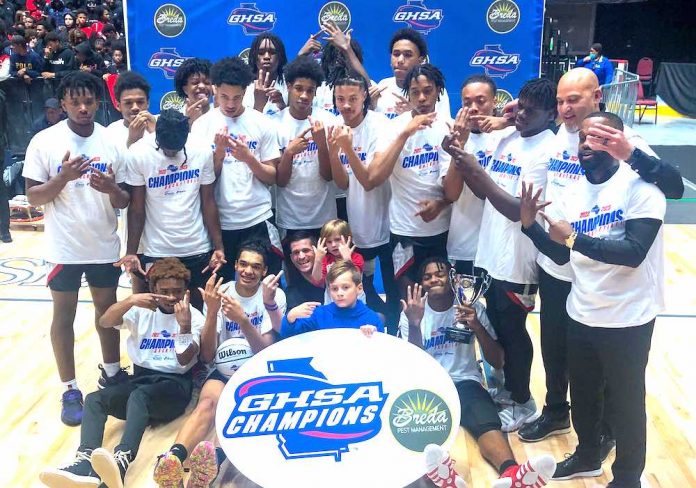 Add another trophy to the mantle at Sandy Creek High. On March 10, the Patriots went down to Macon and won the Class AAA state basketball championship over Cedar Grove, 66-38.
"It feels phenomenal," said Coach Jon-Michael Nickerson. "I'm so happy for our guys."
It was a close game after the first quarter, but the Patriots turned it on in the second quarter and blew the Saints out of the water. An 18-0 run in the frame swung control to Sandy Creek, and they never let it go.
The lead kept growing and growing, peaking at 30-plus points in the waning moments and capped off with a thrilling steal and slam dunk by PJ Green.
The win represents the first-ever boys basketball championship in county history. Fayette County High won the lone girls title in 2011.
"It feels great. There's a lot of emotions going on right now," said junior Micah Smith, the player of the game. "I'm just glad we could get one."
It continues a thrilling year for Sandy Creek sports, adding to a state football championship from the fall.
Fayette County High made the state championship game in Class AAAA, but they lost to Pace Academy, 66-54. — Story provided by Chris Dunn, public information specialist, Fayette County School System.