Nationally ranked Winder-Barrow chases first baseball state title since 1979
Article and photos courtesy of the Atlanta Journal-Constitution –> Original Article Here
There have been several Georgia baseball teams in and out of national rankings this season, and the most intriguing is Winder-Barrow, which sits at No. 7 – highest of any Georgia team – in this week's MaxPreps writers poll known as the Xcellent 25.
Winder-Barrow also is ranked No. 10 by Perfect Game and No. 21 by Baseball America. North Gwinnett, ranked No. 4 by Collegiate Baseball and No. 7 by Baseball America, is the only other program with more accolades at this point.
Winder-Barrow – a program seeking its first state title since 1979 – made its name beyond the state's borders recently at the USA National High School Invitational in Cary, N.C., where the Bulldoggs went 3-1 and defeated tournament defending champion Huntington Beach (Calif.) 3-1 in 10 innings on March 30.
''It propelled us in the rankings,'' Smith said. ''Honestly that's nice, but I don't know how much you can base [rankings] on it, even though it's fun seeing your program talked about. Going in and playing those teams that are respected across the country and beating three of them is a good thing for recognition. It also validated how good the state of Georgia baseball is. We can go within a 30-minute radius and find just as many prospects and good teams as we saw in that tournament.''
More evidence of Georgia's strength in baseball is that Winder-Barrow (23-2) is ranked No. 3 in Class AAAAAA behind No. 1 Pope and No. 2 Allatoona.
Winder-Barrow has been more than solid in its 10 seasons under Smith. His teams have missed the playoffs only once in that time. Smith has helped develop two first-round MLB draft picks – Travis Demerritte and Max Pentecost.
On the current team, eight players have signed or committed to college programs, four to Division I, two to the SEC.
Center fielder Pat DeMarco (signed with Vanderbilt) and catcher Beau Hanna (Kennesaw State) are likely high draft picks in June.
DeMarco leads off. He's batting .400 with 17 doubles, two homers and a triple in 90 at-bats. He's a five-tool player.
"He's been a spark plug for us,'' Smith said. "We bat him leadoff even though he's a power hitter because he gets pitched too and gets more at-bats. He's one of those that makes people around him better.''
Hanna is also hitting .400 with a team-leading four home runs. He is the first catcher that Smith has ever entrusted to call the pitches. The coaching staff gives Hanna the scouting report and game plan and remind him how the hitters did in previous at-bats, but he's in charge from there.
''We felt it was something that would benefit him, having to really think and play the chess match,'' Smith said. "We have some guys who are really smart on the mound and some inexperienced ones too. He knows how to push the right buttons with them.''
Another talented player is shortstop/pitcher Will Hardigree, who was recruited as a catcher to USC-Upstate. Hardigree set the Perfect Game National Underclass record for his pop time (seconds from mitt to glove on a catcher's throw to second base) at 1.72 seconds in 2015. But his high school team already has an outstanding catcher.
''He's got very quick hands and release, but as good as he is behind the plate, we need him at shortstop and on the mound,'' Smith said. "It's hard to catch and pitch.''
Hardigree is hitting .310 with eight doubles, and he's 3-1 on the mound.
Darrell Woodall (5-0, 2.57) and left-hander Daniel Buice (5-0, 1.58) are the other primary pitchers. Buice (rhymes with dice) is committed to Lawson Community College in Alabama.
Other signees or committed players are sophomore third baseman Zach Smith to Ole Miss, middle infielder Trent Maddox to Augusta University, pitcher/first baseman Casey Thurmond to Georgia Highlands and right fielder Skylor Murphy to Young Harris. Murphy leads the team in batting average at .409.
''When you're dealing with high school age guys, you've seen some ups and downs over the years, but for whatever reason, this group has been the most goal-oriented and consistent mentally and effort-wise,'' Smith said. "It's been a lot of fun to work with them because you know what you're getting every day.''
The Bulldoggs have wins over No. 7 Gainesville, No. 10 Greenbrier, No. 10 Loganville of AAAAA and No. 1 Cartersville of AAAA. Their only two losses are by one run to out-of-state teams.
''As far as the road to winning the whole thing, I still don't think we've played our best baseball yet, even though went 3-1 in Cary and made final four,'' Smith said. "If it all clicks, it could be really good.''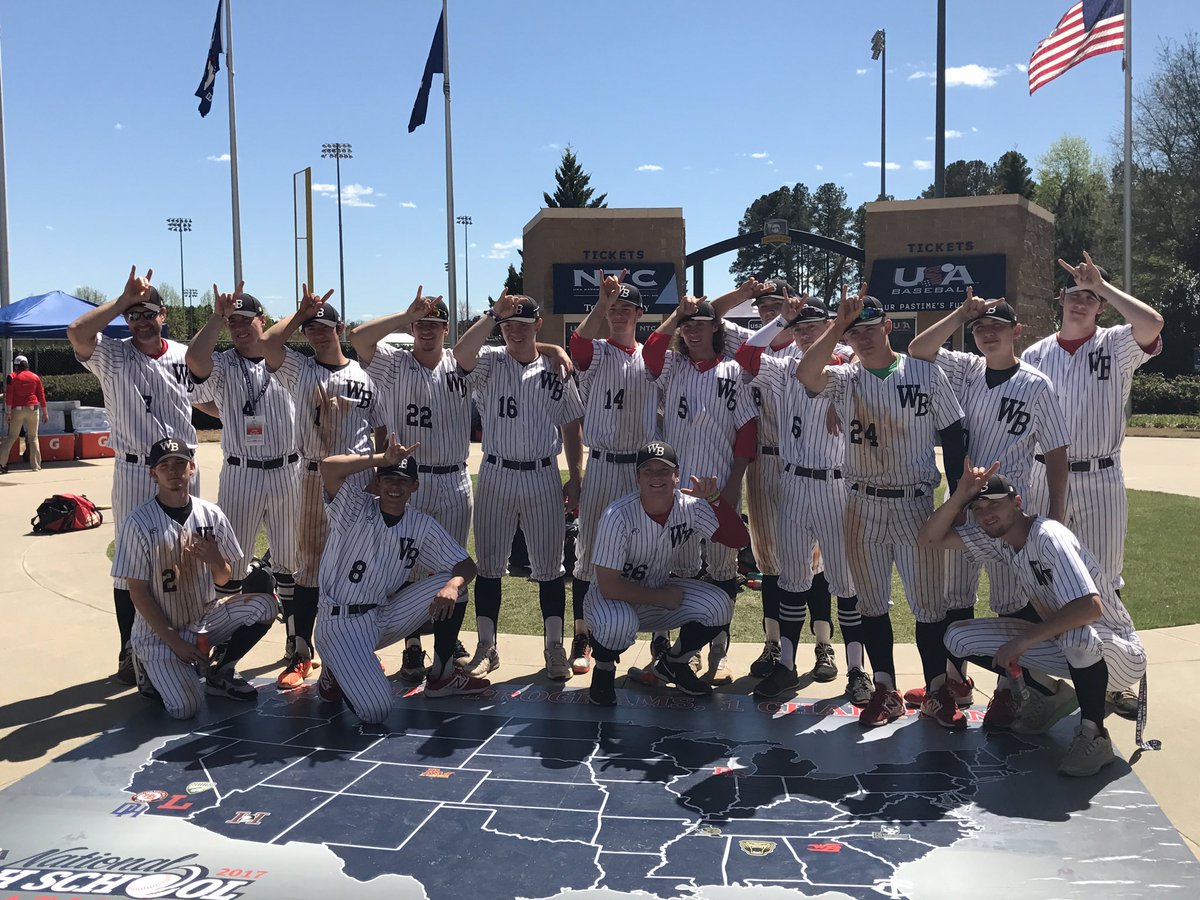 Winder-Barrow went 3-1 at the USA Baseball National High School Invitational on March 29-April 1 in Cary, N.C. The Bulldoggs defeated defending champion Huntington Beach in the first round. Photo: @WBdiamonddoggs