GHSA Soccer State Championships: A-Public/A-Private title game recaps from Thursday
Article & photos courtesy of Score Atlanta –> Original Article Here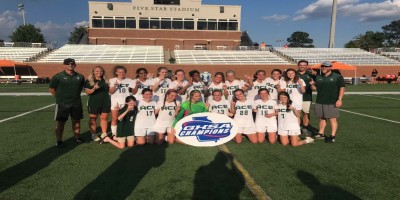 The first four championship games of the GHSA Soccer State Championships took place Thursday at two locations – Mercer University in Macon and McEachern High School in Powder Springs – as the Class A-Public and A-Private boys and girls teams finished their seasons.
Class A-Private at McEachern
Girls: Wesleyan 3, Pinecrest Academy 1
Wesleyan won its second girls soccer championship while Pinecrest Academy was trying for its first-ever title.
Lucy Mitchell, who finished the match with two goals, started the scoring with 36:05 left to play in the first half. She added another goal with 16:37 before intermission to push the lead to 2-0 for the Wolves.
Pinecrest found its lone goal on a header from Ivey Crain with fifty-three seconds left to play in the first half to pull the Paladins to within a goal but that's as close as it would get. With 22:11 to play, Wesleyan's Ashley Cowart added a score which put the game out of reach.
Boys: Wesleyan 2, Whitefield Academy 1
Wesleyan came back from a 1-0 deficit as it captured its second boys soccer title over Whitefield Academy, the 2017 Class A champions.
Whitefield struck first on a goal from Wes Peterson off a rebound with 14:55 to play in the opening half, forcing Wesleyan to respond. The Wolves did on a long goal from Liam Coxhead with six minutes left before intermission and the teams went to the locker room tied. In the second half, Wesleyan struck on a Harrison Larner goal with 33:14 left to play to put the Wolves up for good.
Class A-Public at Mercer University
Girls: Academy for Classical Education 2, Atlanta Classical 0
The Academy for Classical Education Gryphons won their first-ever state championship after just one year of varsity competition.
ACE did its scoring in the first half while holding Atlanta Classical scoreless. With 24:49 left in the first half, ACE pulled ahead on a goal from Paige Suk. The Gryphons pushed the lead to two goals on a score from Lauren Applebee with 34:28 left before the half.
Boys: Georgia Military 2, Lake Oconee Academy 1 (OT)
After an extended lightning delay that began with 26:31 left in the game, Georgia Military won its first-ever boys soccer title with a victory over Lake Oconee Academy in overtime.
Lake Oconee took the lead first on a goal by John Clay Wofford with 28:55 left in the first half. Georgia Military responded with a goal by Logan Steinmeyer with 35:51 left in the game and that's where the score would stand at the end of regulation.
In the extra time, Dylan Smith put the Bulldogs ahead 2-1 with eight minutes left in the overtime period and Georgia Military held on for the victory.