GHSA Lacrosse State Championship Central
Article & photos courtesy of Score Atlanta –> Original Article Here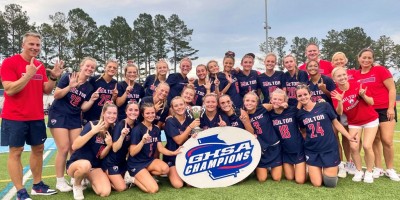 Courtesy of GHSA Twitter
The GHSA lacrosse state championships take place from Friday till Saturday at Denmark High School in Alpharetta
See the results below.
Friday
Class 7A
Girls — Milton 11, West Forsyth 6
Milton hoisted its sixth consecutive state title and 16th in school history after defeating West Forsyth 11-6 in the championship game. The Lady Eagles were on the attack early, and took a 7-2 lead into halftime. West Forsyth kept the game close and pulled within four goals in the last two minutes to make things interesting, but Milton held on to secure the title. With the win, Milton continues to exert its dominance in the state of Georgia. Milton beat North Gwinnett 20-3, Cherokee 20-5, and Walton 17-7 on its way to the state championship. West Forsyth played in its first-ever state final after a great season with marquee wins against North Paulding, Charlotte Latin, and Charlotte Country Day. West Forsyth was led by Senior Noelle Kirley who had 61 goals and 21 assists for the Wolverines this season and averaged three goals a game. True Freshman Bryn Birkholz scored 45 goals in her first season as a starter
Boys — West Forsyth 11, Lambert 9
A new champion was crowned in 7A as West Forsyth won a thrilling 11-9 matchup against Lambert to win its first state championship in school history. West Forsyth took control of the game early with a 5-1 lead. Lambert would answer with a 5-1 run before halftime to cut the deficit to one point. West Forsyth attacker James Davidson had three goals and two assists at the break. The game would remain nip and tuck throughout the second with Lambert tying the game up in the third quarter at 8-8. West Forsyth outscored the Longhorns 3-1 the rest of the game to secure the state championship and bragging rights against their area foe. West Forsyth made history throughout the season and achieved its first 20-win season in program history. On top of this, head coach John Laden was awarded 7A Boys Coach of the Year. Grayson Brockman and Will Zylstra were also All-State selections. West Forsyth did something for the first time in its program history earlier this year, the Wolverines defeated Lambert for the first time ever. That was the turning point between these two teams and the start of a rivalry that has been officially born as the Wolverines have defeated Lambert twice this season. Expect for these two schools to continue battling going forward and be in contention for more state championships. On its road to the state finals, West Forsyth avenged its only loss to Buford by beating them in the semifinals 11-10. The Wolverines also defeated Parkview 18-2 and North Paulding 10-7. Lambert was seeking to become the winningest program in boys history and looked to continue to mark its dominance the past five years, winning four championships in that span. It was a special game between two phenomenal programs who will have a lot to say about who is the best in 7A, but West Forsyth has the bragging rights going into next season until they are dethroned.
Saturday
Class A-4A
Girls — Pace Academy 19, Wesleyan 12
Pace Academy defeated Wesleyan 19-12 to win its first title in program history. Wesleyan got the better of Pace Academy earlier this season in a high-scoring 18-15 win in April, handing the Lady Knights their only loss of the season. After being down 5-2, Pace Academy mounted a 9-7 lead with 25 minutes left in the game, and went on a 10-5 run to close out the championship game. Wesleyan was also looking to win its first state title in program history. Wesleyan defeated Whitewater 9-6, Mt. Pisgah 20-8, and had a thrilling 11-10 overtime win against Westminster to punch its ticket to the championship. In their win against Westminster, the Wolves received a valiant effort from senior goalie Lily Nydam, who played through injury and recorded 14 saves in the win. Pace Academy defeated Walker 22-2, Columbus 14-8, and Fellowship Christian 10-7 en route to the championship. The Lady Knights had notable wins this season against Columbus, Lovett, Westminster, Starr's Mill, and Fellowship Christian (twice).
Boys — Westminster 10, Lovett 4
Westminster defeated the defending state champion Lovett to become the winningest-program in the state of Georgia in boys lacrosse with seven state title wins (2007, 2010, 2013, 2015, 2017, 2019, 2023). Westminster led Lovett 3-1 after the end of the first quarter, and would mount a 6-3 lead heading into halftime. The lead proved too much for the Lions to overcome as Westminster closed out the second half outscoring Lovett 4-1. Lovett's Hamilton Stewart scored two-of-the-four goals for the Lions. Before the game, Westminster was tied with Lambert (7A) for the most overall titles in boys lacrosse with six, but now sit alone at the top. The Wildcats' path to the finals featured wins against Mt. Pisgah (15-4), Pace Academy (11-2), and Wesleyan (11-8). Lovett was seeking the program's fifth overall state title.
Class 5A-6A
Girls — Blessed Trinity 11, Roswell 5
Blessed Trinity won its third-consecutive state championship and sixth overall after defeating Roswell 11-5 in the title game, led by junior Clark Hamilton who scored five goals. Blessed Trinity jumped out to an early 2-0 lead before Roswell pulled within a point. The Titans would extend their lead to 6-3 at halftime, and outscored the Lady Hornets 5-2 through the rest of the game. Blessed Trinity has now won six of the last seven state titles during its dominant near decade-long run and recorded a second-consecutive 20-win season. The Titans defeated Greenbriar 20-0, Alpharetta 17-10, and Creekview 19-8 during their run to the championship. Roswell was seeking its first title in program history following the Lady Hornets' best season in school history, achieving 17 wins and advancing to the state championship as a three-seed.
Boys — Roswell 17, Allatoona 10
Roswell won its first state title since 2015 and third overall after a 17-10 win against Allatoona in the state finals. Roswell led 6-3 after the first quarter, and extended its lead to 10-6 at halftime. Roswell added seven more goals in the second half to remain ahead and take home the championship. The Hornets had a deep roster that included six All-Americans and three All-State selections. Roswell's All-State players include defenders Carter Dowdy, goalie Blake Jeska, and midfielder Luke Hicks. Midfielder Ezra Moore, attacker Hill Plunkett, attacker Alex Lobel, face-off specialist Myles Quandt, and Stone Smith were all named USA All-Americans. The Hornets' offense was in a groove throughout the postseason as they scored double figures in each game, eclipsing 20 goals in three-out-of-five games. Roswell also captured its second 20-win season in program history. In the Buccaneers' run to the state finals, Allatoona beat several very accomplished teams including Blessed Trinity (19-2), Dunwoody (13-6) and Marist (11-9). The Buccaneers also had All-State players this season including attacker Brayden Fountain and midfielder Morgan Maddish. Though Allatoona did not claim the title, had one of the best turnarounds you will see. The Buccaneers started the season 0-4 before getting to .500 with a 6-6 record. Allatoona then rattled off eight-consecutive wins on its way to the state championship, an accomplishment that helped head coach Jonathan Wishon be named All-Area Coach of the Year.