Final lacrosse rankings
Article & photos courtesy of Score Atlanta –> Original Article Here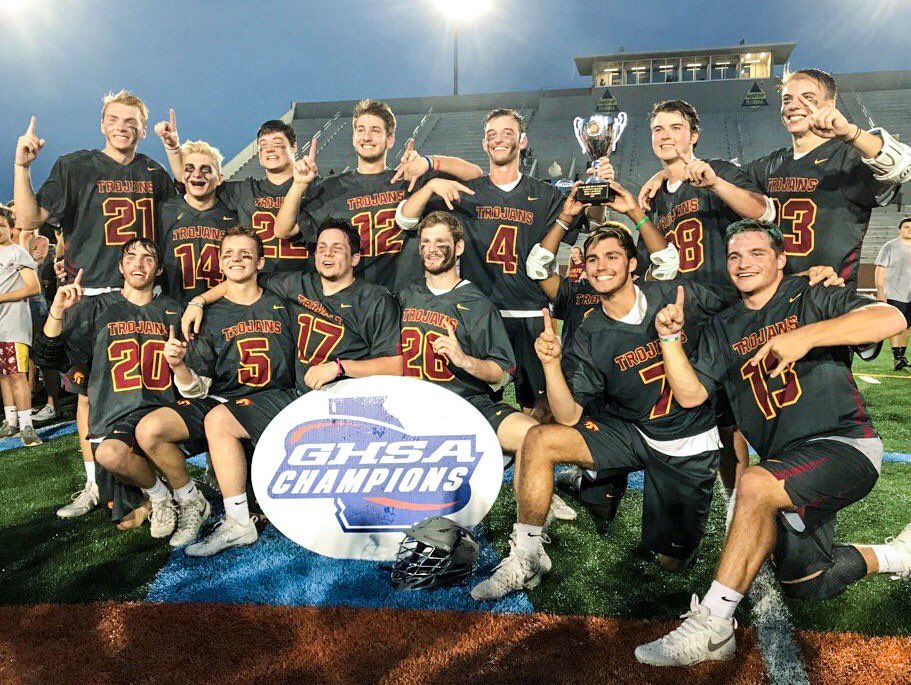 Lassiter made its debut at No. 1 count as the Trojans avenged a 2016 finals loss to Lambert by defeating the Longhorns for the Class 6A-7A boys title. In the Class A-5A boys poll, Westminster used a 10-9 overtime victory in the finals to clinch the state title and the top ranking. Runner-up Lovett finishes second and Greater Atlanta Christian, Blessed Trinity and Marist round out the top 5. Starr's Mill finishes the season at No. 6 after getting eliminated by Lovett 16-8 in the second round, while Kell's 9-8 loss to Blessed Trinity in the second round kept the Longhorns from jumping higher than No. 7. McIntosh, Buford and Wesleyan earned the final three spots in the top 10.
In Class 6A-7A girls, Milton's 13-4 championship victory gave the Eagles the No. 1 spot over runner-up Cambridge. North Gwinnett earned No. 3 in the poll due to the Bulldogs' regular season victories over Cambridge (8-7) and No. 5 Lambert (16-7), which fell to Cambridge 9-8 in the semis. Lassiter finishes at No. 4 despite getting knocked out by Milton 12-3 in the quarterfinals.
Blessed Trinity reclaimed the girls Class A-5A top ranking with an 11-9 win over Kell in the finals. Kell finished No. 2 as a result of the run to the finals. Semifinalist Westminster and Wesleyan join Starr's Mill in the top 5.
BOYS
Class 6A-7A
1. Lassiter (17-4)
2. Lambert (20-2)
3. Mill Creek (17-2)
4. Centennial (18-4)
5. Pope (15-6)
6. Johns Creek (15-4)
7. Allatoona (15-7)
8. Cambridge (14-6)
9. West Forsyth (17-4)
10. Walton (13-7)
Class A-5A
1. Westminster (18-4)
2. Lovett (16-5)
3. Greater Atlanta Christian (12-7)
4. Blessed Trinity (14-6)
5. Marist (15-4)
6. Starr's Mill (17-3)
7. Kell (13-5)
8. McIntosh (13-7)
9. Buford (11-8)
10. Wesleyan (12-7)
GIRLS
Class 6A-7A
1. Milton (19-4)
2. Cambridge (18-7)
3. North Gwinnett (20-2)
4. Lassiter (17-4)
5. Lambert (16-6)
6. Walton (14-8)
7. Mill Creek (16-4)
8. Chattahoochee (10-8)
9. Kennesaw Mountain (16-4-1)
10. Centennial (12-5)
Class A-5A
1. Blessed Trinity (19-3)
2. Kell (12-10)
3. Westminster (14-7)
4. Wesleyan (14-6)
5. Starr's Mill (18-1)
6. St. Pius (13-5)
7. McIntosh (18-2)
8. Marist (13-4)
9. Pinecrest Academy (11-8)
10. Holy Innocents' (4-9)