Final 2016 girls soccer rankings
Article courtesy of Score Atlanta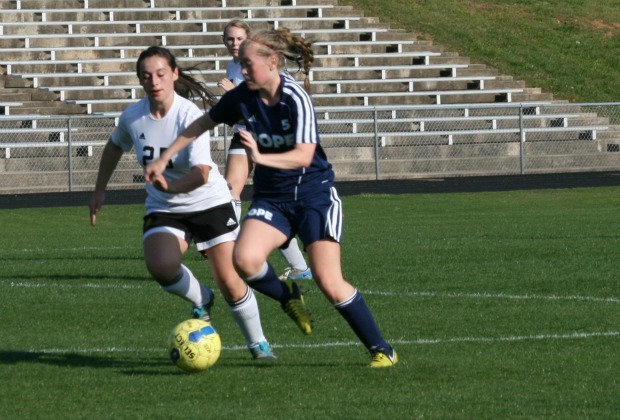 In Class AAAAAA, girls state champion Lassiter heads the poll with its near-perfect 20-1 season. The Trojans' only loss came in a 2-1 battle with West Forsyth on March 31, a team that they would defeat by the same score in the state championship. Harrison sits at No. 3 after dropping a 2-1 game to West Forsyth in the semis.
In Class AAAAA, McIntosh earned its status at No. 1 after defeating Columbus 4-0 for the state title. Columbus battled past No. 3 Starr's Mill 3-2 in the semifinals and the Panthers finish at No. 3 with a 3-2 win over top-ranked McIntosh on their resume.
St. Pius stunned rival Marist 2-0 in the Class AAAA championship and finishes at No. 1. No. 2 Marist ends the year 21-1-1 after dropping its only game when it mattered most. Rivals Westminster and Blessed Trinity met in the Class AAA title game, and like football and baseball, the Wildcats toppled the Titans and took home a state title. Westminster finishes No. 1 after its 21-1-1 season and BT closes the year at No. 2.
Class AA No. 1 Lovett ended the year with a 36-2 goals advantage in its final five games, including a 2-0 shutout over St. Vincent's Academy in the championship.
Fellowship Christian posted 17 straight wins after dropping its season opener to Pace Academy 8-2 and took home the Class A state crown with a 3-0 win over Atlanta International. Stratford Academy, however owns the No. 2 spot after a 16-1 finish, compared to Atlanta International's 10-8-2 runner-up campaign.
GIRLS
Class AAAAAA
1. Lassiter
2. West Forsyth
3. Harrison
4. Collins Hill
5. Walton
6. North Gwinnett
7. Grayson
8. Hillgrove
9. Lakeside-DeKalb
10. East Coweta
Class AAAAA
1. McIntosh
2. Columbus
3. Starr's Mill
4. North Atlanta
5. Northgate
6. Gainesville
7. Cambridge
8. Heritage-Conyers
9. Richmond Hill
10. Forsyth Central
Class AAAA
1. St. Pius
2. Marist
3. Buford
4. Whitewater
5. Grady
6. Woodward Academy
7. North Hall
8. Veterans
9. Pike County
10. Wayne County
Class AAA
1. Westminster
2. Blessed Trinity
3. Decatur
4. Dawson County
5. Savannah Arts
6. Lumpkin County
7. Adairsville
8. Oconee County
9. Sonoraville
10. Peach County
Class AA
1. Lovett
2. St. Vincent's Academy
3. Greater Atlanta Christian
4. Pace Academy
5. Wesleyan
6. Bremen
7. Lamar County
8. Holy Innocents'
9. Union County
10. East Laurens
Class A
1. Fellowship Christian
2. Stratford Academy
3. Atlanta International
4. Walker
5. Athens Academy
6. Calvary Day
7. First Presbyterian Day
8. Savannah Christian
9. Eagle's Landing Christian
10. Paideia