Championship Caliber Teams Square Off At Denmark
Article & photos courtesy of Score Atlanta –> Original Article Here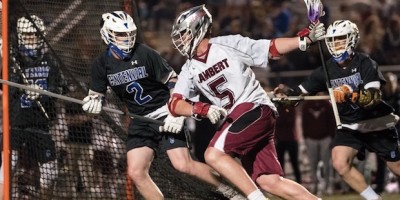 The GHSA lacrosse season will come to a close Friday and Saturday with a two-day state championship schedule that will be played at Denmark High School in Alpharetta, with titles being awarded in Class A-4A, 5A-6A, and 7A for both girls and boys.
On the boys side, Lambert (7A) is seeking to win its third-consecutive lacrosse state championship and seventh overall. Lovett (A-4A) is looking to become back-to-back state champions and win its fifth state championship in program history. On the girls side, Milton (7A) is the winningest program in the state with 15 state championships and will be seeking its sixth-consecutive title and 16th overall come Friday night. Blessed Trinity (5A-6A) has been another staple in the state championships, winning five of the last six state titles and are seeking a third-consecutive championship.
Successful Programs For Boys and Girls
There are two programs where the boys and girls of each high school program will be represented in their respective classes, West Forsyth (7A) and Roswell (5A-6A). West Forsyth will be looking to make history by winning its first state title in program history for both girls and boys. The West Forsyth boys reached 20 wins for the first time in school history this season. The Roswell boys are seeking to win their first state title since 2015 and third overall, while the girls are trying to win their first-ever state title.
Westminster (5A-6A) is looking to become the winningest program in the state of Georgia in boys lacrosse state title wins. Currently, Westminster is tied with Lambert (7A) for the most titles ever in boys lacrosse at six. The Allatoona boys are seeking their first state title since 2016 and second overall in the program. The Pace Academy (A-4A) girls are seeking their first-ever title in program history along with Roswell (5A-6A) and West Forsyth (7A).
Elite Coaching On The Big Stage
West Forsyth's boys coach, John Laden, won 7A Boys Lacrosse Coach of the Year, while Allatoona boys coach Johnathan Wishon won All-Area Coach of the Year. Milton Eagles girls coach Tim Godby won National Girls Lacrosse Coach of the Year, an accomplishment Coach Godby has earned after being the head coach for the Lady Eagles during their historic dominance. Additionally, he was inducted into the Georgia Lacrosse Hall of Fame in 2019 with more than 200 career wins during his time as a coach.
All-Americans & All-State Players Competing At State
West Forsyth has two All-Americans on its squad, midfielder Greyson Brockman (Mercer-commit) and attacker Will Zylstra (Mercer-commit). All-State players include midfielder Ryder Stewart, defender Brady Gillis, and midfielder Bryson Rodgers. Lambert's all-state players are Brooks Wehman, Chris Harper, Dylan Ferrer, and Cooper Brannon.
Roswell's all-state players include defenders Carter Dowdy and Stone Smith, goalie Blake Jeska, and midfielder Luke Hicks. Midfielder Ezra Moore, attacker Hill Plunkett, attacker Alex Lobel, face off specialist Myles Quandt, and Stone Smith were all named USA All-Americans. Allatoona's all-state players include attacker Brayden Fountain and midfielder Morgan Maddish.
The Rematch
All of the state championship matchups will include a rematch from the regular season in each class. In the state's highest classification, West Forsyth will face Lambert on the boys side. This is the second time this season these area foes have met with West Forsyth winning the first matchup 10-9 and beating Lambert for the first time in program history. On the girls side, Milton will face its region opponent West Forsyth. Milton claimed the victory in the earlier matchup, 12-5. In Class 5A-6A, Roswell will face Allatoona on the boys side. Roswell and Allatoona squared off earlier this season with the Hornets winning 13-7. On the girls side, Blessed Trinity will face off against Roswell for the second time this year. Blessed Trinity won 16-3 in the previous matchup. In Class A-4A, Westminster will seek revenge against Lovett after losing an earlier matchup this season 9-8, and the state final last year 14-7. On the girls side, Wesleyan will face Pace Academy. Wesleyan won the high-scoring matchup 18-15 back in April.