Championship Caliber Teams Highlight Four-Day Soccer Finals
Article & photos courtesy of Score Atlanta –> Original Article Here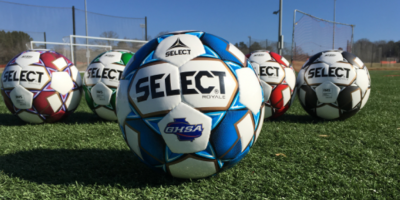 The GHSA soccer season will come to an end Tuesday through Friday for a four-day state championship schedule being split between McEachern High School in Powder Springs, Duluth High School in Duluth and Mercer University in Macon.
McEachern's Cantrell Stadium will host Classes 6A (Friday), 4A (Thursday), 2A (Wednesday) and A Division II (Tuesday), Mercer's Five Star Stadium will play host to Classes 3A (Wednesday) and A Division I (Tuesday) and Duluth will host Classes 5A (Thursday) and 7A (Friday).
RETURNING CHAMPIONS
There are 32 teams on the boys and girls side of the state championships and of those, five storied programs are trying for a repeat state championship. On the boys side, Lassiter (6A), Johnson-Gainesville (5A) and Atlanta International (A Private last year, A Division I now) are trying to defend. For the girls, Marist (4A last year, 6A now) and Westminster (3A last year, 4A now) are the two defending champions.
CONTINUING THE STREAK
Westminster's soccer program has arguably been the most storied program in the state for the entire history of soccer as a GHSA-sanctioned sport. Combined, the Wildcats have won 29 state titles – 15 girls, 14 boys – and with both squads trying for a state championship, that number could grow by the end of the week.
The Westminster girls have won a state championship every season since 2015, that's seven consecutive titles. The boys won the inaugural soccer championship in 1966, defended the state championship in 1967 and won six state championships from 2011 to 2019 but have not won a championship since. The Marist girls – competing for the Class 6A championship – are trying for the team's 11th state title and a championship defense.
SUCCESS FOR THE BOYS AND GIRLS TEAMS
There are four programs where both the boys and girls teams advanced to the state championship match in their respective classes – Walton (7A), Westminster (4A), Oconee County (3A) and Paideia (A Division I).
Walton's boys have six state championships – 1986, 1995, 2002, 2006, 2008 and 2011 – while the Walton girls have one state championship, but not since 1993. Oconee County's boys won a state championship in 2019 but the girls have not tasted championship glory. The Paideia program has seven state championships with the boys winning state championships in 2013, 2014, 2016 and 2018 and the girls capturing state championships in 2000, 2001 and 2003.
WE JUST WANT ONE
There are 13 teams competing for their program's first-ever state championship – Towns County girls (A Division II), Christian Heritage boys (A Division II), Mount Vernon girls (A Division I), Athens Academy girls (2A), Providence Christian boys (2A), Tattnall County boys (2A), Oconee County girls (3A), Bremen girls (3A), Greenbrier girls (5A), Chamblee girls (5A), Roswell girls (6A), River Ridge boys (6A), and Denmark girls (7A).
THE MATCHUPS
In the state's highest classification, Walton will face Lambert on the boys side of the class and for the girls, Denmark will play Walton. In Class 6A, Lassiter's boys will meet River Ridge and for the girls, Roswell will play Marist for the state championship. In Class 5A, Dalton will meet Midtown for the boys state title while Greenbrier will play Chamblee on the girls side. Westminster will face Johnson-Gainesville for the boys Class 4A state championship and on the girls side, Westminster will play North Oconee.
On the boys side of Class 3A, Oconee County will take on Coahulla Creek and for the girls, Oconee County will play Bremen. Providence Christian will play Tattnall County on the boys side of Class 2A while Fellowship Christian's girls will meet Athens Academy. On the boys side of Class A Division I, Atlanta International will play Paideia and for the girls, Paideia will take on Mount Vernon. In Class A Division II, Georgia Military will face Christian Heritage on the boys side and for the girls, Towns County will meet Aquinas.